We have been so busy the last few weeks we simply haven't had time to update our news page…but here goes….
MENTAL HEALTH FIRST AID TRAINING
Julie and Emily have done the two day Mental Health First Aid training and although it was completed a while ago now have certificates. Angela and Patrick are the next two to attend MHFA training and will complete theirs this month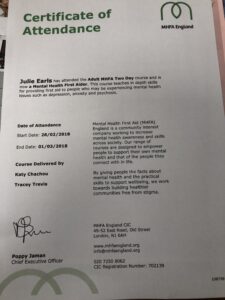 LEADERSHIP WITH HORSES
We were lucky to be invited along to the launch of Jude Jennison's latest book Leading through uncertainty. The event took place at Moreton Morrell college and was a fantastic opportunity to listen to Jude's story, get a copy of her book and watch a marvellous demonstration of her Leadership with horses. (Accompanied by Prosecco and nibbles!) Emily from our pet therapy team was lucky enough to participate and really enjoyed herself.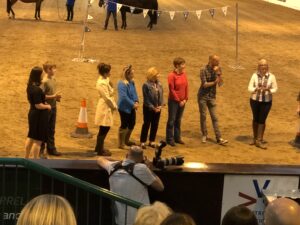 MARKING DEMENTIA AWARENESS WEEK
Again we were delighted to have been included in Warwickshire County Council and The Pamela Britton Trusts Dementia Awareness Day in Leamington Spa. The event was supported by a number of local providers showing how they can support those living with Dementia and their cares. There was an empowering opening speech by Tony Britton and lots of activities throughout the day. Emily took along Lewi one of our therapy dogs along and Sharon was pampering some of the ladies.
PLANNING AN ART EXHIBITION
Emma has been busy with one of our clients reintroducing her to her former love of art and helping her to put together an exhibition of some of her work past and present to raise funds for the local church. The creative therapy department is expanding well.
The exhibition will be held at Saint Giles Church in Bubbenhall on the weekend of 23rd and 24th June. Paitings will be for sale and you may get to meet the artist herself along with Emma who leads this department.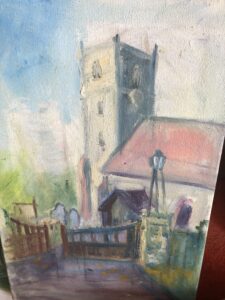 WELCOME TO NEW STAFF
We are pleased to welcome Angela to the Appoint Us team. Angela comes with an incredible wealth of experience and also has a volunteering background. We are happy to have her as part of the team and hope she will spend many happy years with us.