Hi. I'm Chiara.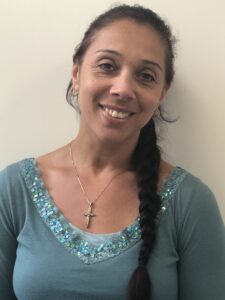 I am the newest member of the Creative Support Team and am loving my job so far!
I have worked extensively in the arts all of my life; from the young age of 4 I studied dance then progressed to singing and drama. I then trained as a professional performer and have worked as an entertainer all over the world. As part of my work on cruise ships I taught dance, singing and drama lessons to all ages including  more mature people of up to 102!
I also trained in music and piano playing.
I have been involved with arts & crafts since I was 3 under the care of my mother who also shares this passion.
I am currently completing an accredited arts therapist course and am also taking an accredited psychology for therapists course.
My recent work has included percussion, bongo drumming and tai chi sessions.